Paros FAQS- Frequently asked questions on Paros accommodation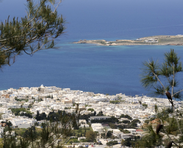 See some common visitors' questions on the accommodation at Bizas Rooms.
click on each question to reveal the answer
We offer our guests free transfer to/from the port of Parikia upon arrival and departure.
Important – Please let us know your arrival details ( the exact time you are going to arrive at the port of Paros ), 2 days before your arrival.
Call us – as soon as you get off the boat at the port of Parikia, and we will immediately come at our meeting point. Tel. +30 22840 24990 & +30 6945 405 315
Meeting point – After your arrival at the port of Paros (with your back to the sea) turn left along the seaside and at about 100m., you will see the Medical Center (small hospital) of Paros. Wait at the main entrance and Mr. Costas will come to pick you up and drive you to the rooms.
The rooms are located about 900m. from the port (less than a 10-minute walk).
There are various beaches near the accommodation, some have beach bars with sun loungers and umbrellas, while others are more quiet and offer shade under trees. Here is a small list of the nearest ones:
From the port, you can take a small boat that brings you to Krios & Marcello beaches located across the port in the bay of Parikia. These beaches have very clean waters and they are protected from the South winds of August.
Livadia beach is the most popular sandy beach in town, located about 300m. away from the port. Here you can find various cafes and restaurants all along, a beach-volley court and Paros Nautical Club offering sailing and swimming lessons.
Souvlia beach is about 2km from the rooms, easily accessed by car, public bus or on foot. Here, you can find some pretty cool beach restaurants.
Parasporos beach is at 3km. distance – a popular long sandy beach, with some quiet corners.
• Check in any time between 12 o'clock in the morning and 12 midnight.
• Check-out time: 11:30am
Yes, we accept Mastercard & Visa.
Tel. +30 22840 24990 – Mob. +30 6945 405315
Bizas Paros Accommodation, Parikia Paros Greece
Parikia Paros Greece